Pastor Emeritus Jesse B. Bilberry, Jr.
The Rev. Dr. Jesse Bernard Bilberry, Jr. was the first of 10 children born to the Rev. Jesse B. Bilberry, Sr. and Mrs. Joe B. Bilberry in Marion, Louisiana. He was educated in the public schools of Union Parish and attended college at Southern University in Baton Rouge where he finished with a B.A. in Social Studies and English. Pastor Bilberry went on to complete his Master of Education degree at Louisiana State University and finished with a Doctorate of Theology from Christian Bible College.
Pastor Bilberry began his working career in the classrooms in Farmerville and Spearsville, Louisiana. The highlight of his educational career was a 13-year tenure as Principal of Tensas Rosenwald High School in St. Joseph, Louisiana. Positions on the Executive Council of the Louisiana Education Association and the Tensas Education Association finally brought him back to the Southern University campus. At Southern, Pastor Bilberry served as the Director of the Freshman Complex, the High School Relations Office, and the Admissions Office.
Pastor Bilberry was baptized at the Blooming Grove Baptist Church in Farmerville, Louisiana, when he was 14 years old. He was a faithful and active member until 1975, when he moved his membership to Mount Pilgrim Baptist Church. He served in many capacities prior to his pastorship, including being ordained as a deacon and acting as head of the Finance Committee. In 1981, Pastor Bilberry accepted God's call to the ministry. He then served as an associate minister until being called as the Pastor of Mount Pilgrim. Rev. Jesse B. Bilberry, Jr., was elected by the congregation on January 16, 1984 to become its eighth pastor. He was both ordained to preach and installed by the Fourth District Missionary Baptist Association on February 19, 1984.
Pastor Bilberry has been married to Mrs. Verta Lee (Hamilton) Bilberry of Monroe, Louisiana for more than 50 years. He and his wife have one daughter, Cassandra Gail Bilberry.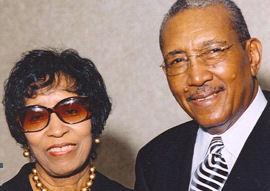 Pastor Bilberry and First Lady Verta Bilberry
9700 Scenic Highway • Baton Rouge, LA 70807 • phone: (225) 775-2740
fax: (225) 775-8988 •
email us